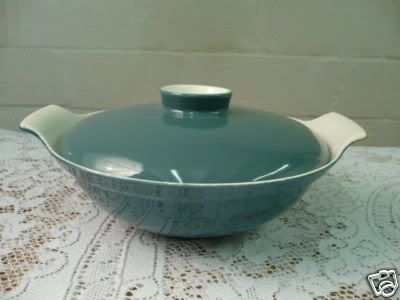 The seller had included the dish in a lot with a coffee service, which seemed to be an odd combination. Yes, they all matched, but a coffee set and a single veg dish aren't a combination you're likely to want often. So I emailed and said if the lot didn't sell, I'd buy the dish alone for the start price.
I'd decided to do a cheesecake for dessert - it's relatively light, and can be prepared in advance. I thought of doing vanilla with chocolate pieces, so was searching t'net this morning looking for basic recipes. And I found this recipe for
Kendal Mint Cheesecake
. So that's what we're having. You're supposed to use mint Viscount biscuits for the base, but the smallish Somerfield in town didn't have any, so I got digestives instead. I figured that the rest is rich and sweet enough that a plain base will be good. (According the recipe, the biscuits should be 'ashed'; I think a letter went missing somewhere). I won't be making the port sauce, as I don't have any port.
The challenge was to find the Kendal Mint cake in the town centre. I stopped at the sweet stall at the Xmas market. They didn't have any, but i did buy some cherry brandy fudge, and some marzipan fudge. Wandered down Fargate, enjoying the market, and popped into thornton's on the off-chance of mint cake. Met
aunty_cis
, who smelt deliciously of Lush products. She told me that one of Lush's founders was in the shop today, talking to the customers, and giving out free stuff. Cis had been lucky enough to get something. Thornton's didn't have any mint cake, but they did have 25% off everything, so I bought some small bags of treacle toffee as pressies for as-yet unspecified folk. I popped into Lush and identified the founder, but didn't get any free stuff :(
There was a stall selling jewellery of fimo animals that I liked a lot. It's just as well I didn't have much cash, as otherwise I'd have bought the highland cow earrings. I made my way down Fargate, and tried the camping/outdoor shop on the High Street (Blacks ?). Bingo - they had Kendal Mint Cake, and a friendly assistant, who like the idea of the cheesecake. From there it was a move over the road to T J Hughs, for a pair of serving spoons to serve the veg from my nice dishes with. I got a pair of black ones by Prestige, though being sold for £1.99 at T J Hughes doesn't seem very prestigious to me.
So, tomorrow I make the cheesecake and try to remember to take the lamb out of the freezer.
Went into town today to do some shopping. Iain and Vikki and Steve and Helen are coming for dinner on Sunday evening. I was pleased to get the second Poole veg dish to match the one I got in October, so now have a pair for being posh when serving.