The Antiques Roadshow came to Sheffield yesterday, specifically to the ballroom of City Hall. I decided to go along and take a couple of my charity shop curiosities with me, to learn a little more about them. I didn't have any real hope of any of them being interestig enough to be filmed, but it seemed like an opportunity for an interesting afternoon out.

It was all pretty much as it appears to be on telly, with tables set up for experts in each catagory to do their stuff. A space in the centre of the ballroom acted as a mini studio, furnished with a couple of sofas and a table that they rearranged for the expert to owner interviews. Michael Aspel (the programme's non-expert host) appeared a couple of times to do pieces to the camera.

The first queue I joined was for Jewellery. The expert was on the point of rushing off to do a piece to camera, and didn't have much time to spend on my little fish brooch/clasp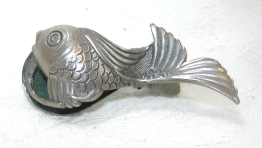 He started by saying it probably dated from the 20's or 30's, then added it might even be from the 50's (looks more like Art Nouveau to me). He said it wasn't silver, bit more likely something like pewter (which I'd figured out for myself anyway). About the only thing I did learn from him is that it isn't English, but Continental - though he couldn't say which country.

I then spent a long time queueing to see a ceramics expert. Note, if you plan on attending The Antiques Roadshow, this is by far the busiest catagory. Take militaria or books if you don't want to queue for ages. However, I did want to learn something about my little Chinese Cat teapot, so I stuck it out.




I got this in a charity shop for a couple of quid and wasn't really holding out much hope of it being valuable, but I know absolutely nothing about it, and trying to Google 'chinese cat teapot' isn't going to get me very far, very fast. Turns out it dates from the 60's. The face is hand painted, and the flowers are transfers, with hand painted detail. Worth about £25. The expert seemed surprised that I'd queued up just for one item, and seemed to expect that I'd be more disappointed to learn it wasn't older or more valuable. (The fact that it's got 'Made In China' printed on the bottom in English suggested that it wasn't exactly Ming dynasty)

By this time, it was later afternoon and much quieter, and I managed to collar one of the misc. items experts without having to wait. I showed him a little metal bowl I've got, which is really only interesting on account of the stamp in the bottom.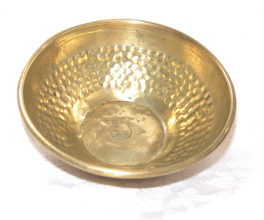 It has the crest of the Pacific Steam Navigation Company, which I looked up before going out. The PSNC operated from around 1840 to the 1980's, specializing in South America and Australia. The bowl was most likely used for serving nuts, sugar or other snacks and was probably swiped by a passenger as a souvenir (which is why modern companies don't tend to put their logos on stuff). It was made in South America and is probably late Victorian/turn of the century - older than I thought. As a plain bowl, it would be worth about a fiver - with the shipping company stamp, it's much more collectable, and worth £25-£30. Not a bad return on an investment of about £2.

All in all, it was a tiring but interesting day.