Left plumber in bathroom, retreated up to bedroom and got half-dressed then sat on bed, musing over story. Less than half an hour later, the plumber called to say he'd finished. The rubber washer/filter in the siphon had disintegrated, and he'd replaced the unit, flushed the loo (twice, this time) to be sure it worked, and was done. He left and I abandoned thoughts of getting fully dressed and went back to bed.
Woke up later to a sunnier day and lay in lovely warm bed, still musing on story. Got summoned to answer door in dressing gown again, and recieved parcel from ebay seller. She's said she was posting it Sat or yesterday, so I was pleased to get it so soon. As I carried the parcel upstairs, Diesel ran out in front of me, and I got to kick the cat without feeling guilty, as it was her fault. (Sensitive readers may be reassured to know that a few minutes later I heard her charging down the stairs at approx 90 mph - evidently full of the joys of November)
The parcel contained this fab clock. The dial is greenish onxy/marble, and the wooden elements of the rays turn, so you can have them flat, or at an angle. I'm going to put it on the wall of the living room (the face will tone nicely with the carpet).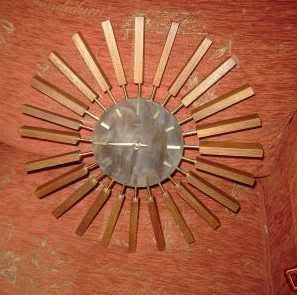 After playing with my new timepiece, I finally got dressed, and visited the bathroom. The plumber had considerately left the defunt siphon in the box that the plants arrived in yesterday. At least it wasn't in the middle of the floor, but why couldn't he have taken it with him and dropped it in the wheelie bin he had to walk past on his way out of the garden ? Anyway, the toilet flushed beautifully first time. Long may it continue to do so !
Was very late to bed last night, mainly as I stayed up writing out a fanfic story that had been bewing for a couple of days. Got about 5 hours sleep before being woken up by the plumber, who'd arrived bright and early. I knew he was due today, but wasn't sure when, and promptly blamed the landlord for not telling me.