I got a simple, tall teak bookcase earlier this year, and keep looking on ebay to see if there's anything I like that's within reasonable range. I managed to get a nice, glass-fronted bookcase off ebay earlier in the month, which Chris obligingly took me out to Baslow to fetch in his estate car. Then the week before Xmas, I got a tall bookcase and drop-leaf table off ebay. They were in Bolsover, so I hired a helpful man with van service that I'd used earlier in the year. They could only collect on an evening when I was going out to a concert, but kindly kept my furniture overnight and delivered it the next day, at a time convenient for both of us. Everything's in, I have books on shelves again, and Xmas decorations applied, and I'm very pleased with it all.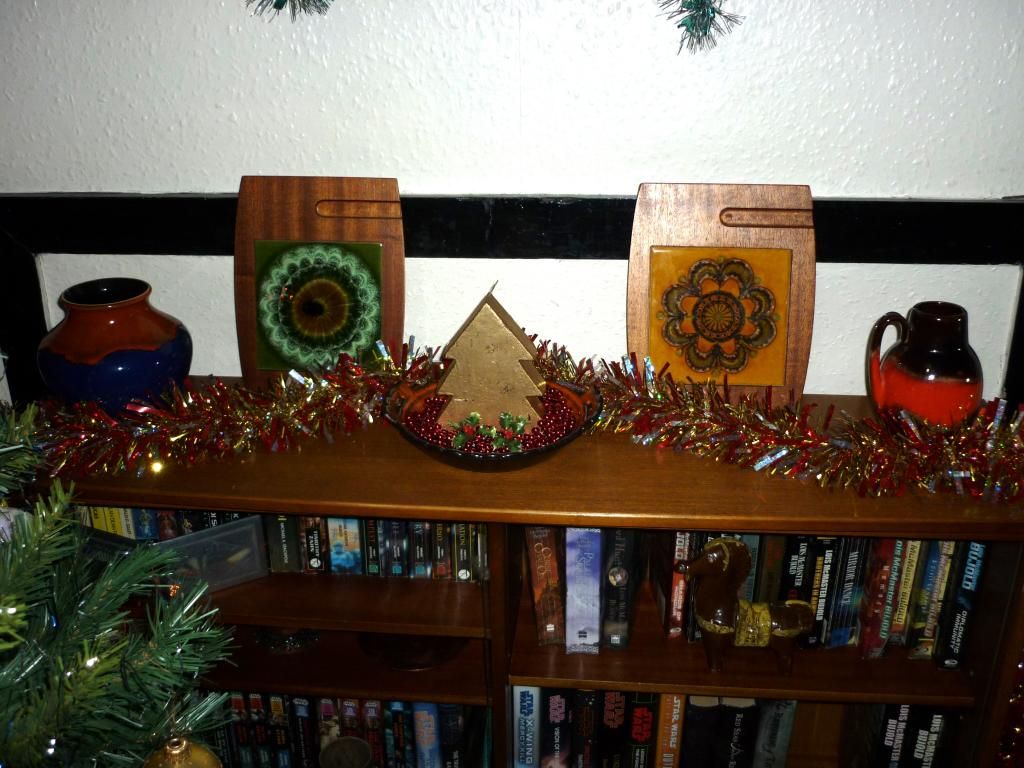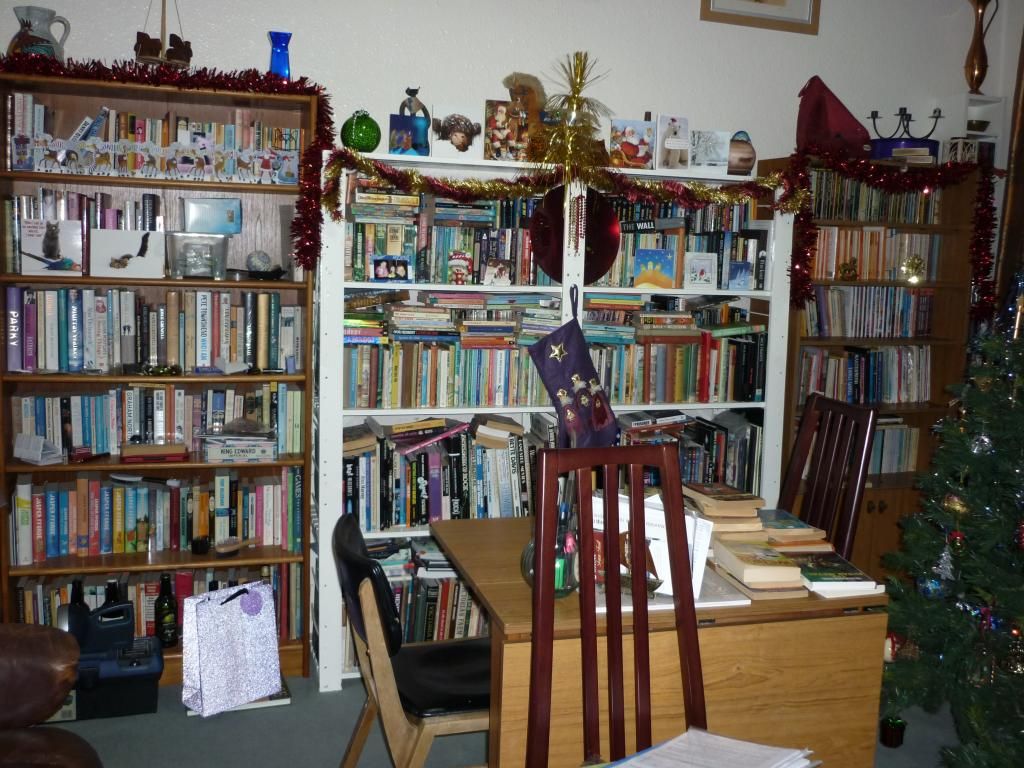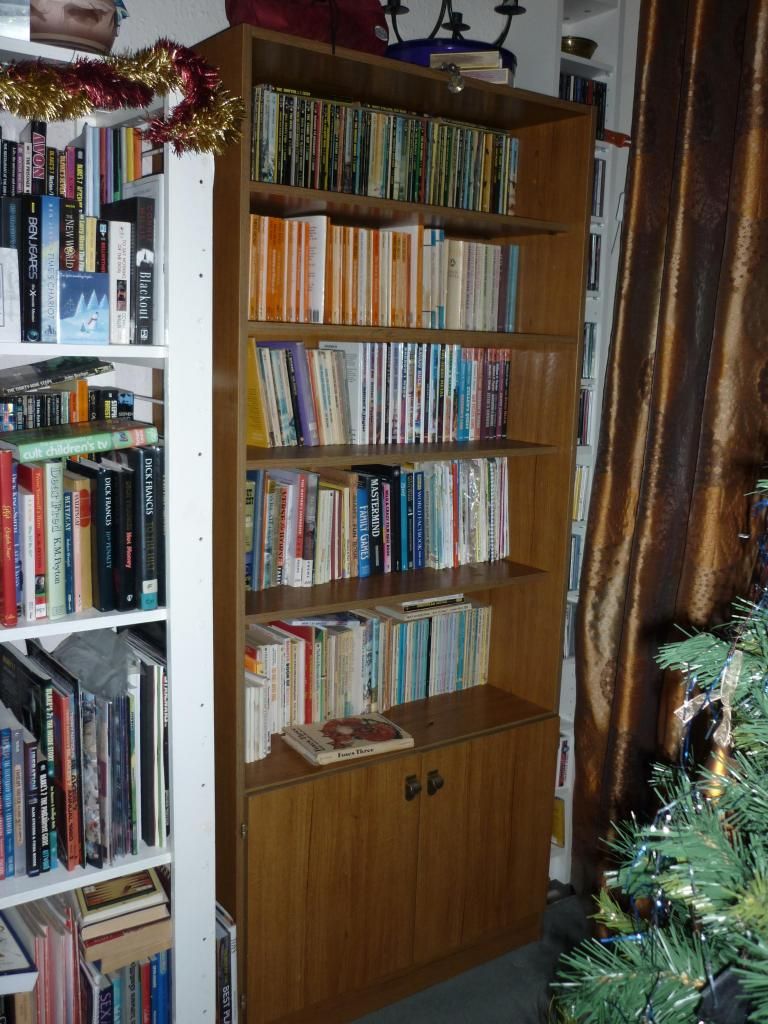 Xmas day was quiet; just me, the cats and the TV. On Boxing day I went over to the Chivers and ate food. It was nice to catch up with people and I had a good time, thank you. I left to get back for about 4.00, as I thought the neighbours across the road were having their carol party. However, when I got back, their lights were off and the place looked empty. They returned just a couple of minutes later as I was getting out of the car. I went to call on the next door neighbours, as Andrew had offered to help with moving the old bookcase and table out for the council to collect on the Sat, I was invited in for a drink, and while there, checked with the carol party was. It was Sunday, which explained things. I had a nice visit with next door and was warned to move my car as snow was due. We live on a steep section of the road, and passing cars have been known to skid just there and bump parked cars - it happened to me last year.
It was sleeting when I left and very wet, but the air smelt icy so I moved the car. When I looked out a couple of hours later, there was 3" of snow. Unsurprisingly, the council haven't come by to pick up the old bookcase - Kate-next-door claimed the drop-leaf table. In spite of the snow, there was a good turn out at the carol party. It was all friends and neighbours from along the street, and yet again I was greeted by name by people who looked vaguely familiar, but I couldn't name in a month of Sundays. There was more food, lots of chat, and plenty of music. Ed, whose house we were at, is musical and plays the keyboards well, as well as the cello. His daughter also plays the cello and there was a box of assorted percussion things like jingle bells, maracas and tambourines. A dozen and a half children and adults gathered in the music room, and we sang traditional carols and songs, and some Sheffield carols. Ed played piano, and in the second session was joined by someone's visiting sister, who played violin. Half a dozen children played Silent Night, on cello, recorder, and flute. It all felt thoroughly festive and neighbourly, and most people joined in with the singing, regardless of ability
Tomorrow, the Parkins and Fieldens should be coming over for our usual Xmas meal. The forecast is for sun, so the snow should clear off a bit more and they'll get here OK. I have to get out to the hairdressers and to get the main course, when I decide what it is. Dessert is already done - Blackburn fig pie. Then there's industrial scale eating to do on Tues, at Blake st, and again on Wed, at the D&D New year's meal. Wish me luck.
Mum and Dad sent a cheque this year, so I could buy what I liked for Xmas, and I chose to spend it on furniture. The four bookcases in my living room were all white, and perfectly functional, but not very satisfying as objects in themselves. I wanted some nice, mid-century teak furniture, like the sort I grew up with. I love the warm colour of teak, and my living room has been developing a 70's vibe over the last three or four years.