rich_jacko
in the city centre and we travelled out to the arena together on the tram. These event tend to involve a lot of time standing, and walking around, so I decided to take my wheelchair, so I could sit down when I needed to and still get about. Rich was very obliging about pushing, and particularly about carrying the chair up and down the steps from the consourse to the floor of the arena, where the stalls were, as the staff we spoke to seemed convinced there were no lifts: many thanks, Rich.
We met Ju and the Bear Cub when we arrived at 11 and chatted briefly. They went to look at stalls while Rich and I went autograph hunting. I can't remember the exact order we visited guests, but I'm pretty certain we started with Sophie Aldred, someone we both had on our lists.
Ace has let herself go in recent years.
Sophie was lovely, and at Rich's request, drew a stick figure of Ace hitting a dalek with a baseball bat on his DVD cover. I brought along the souvenir programme of 'Lust', a musical that she had co-starred in with Denis Lawson in 1993, for her to sign. She said how much she'd enjoyed being in the production and that Denis was lovely to work with, and I think she enjoyed seeing the programme again, and being reminded of it. She would like to do some more musical theatre in the West End.and I hope she does; she was very good.
Sylvester McCoy was nearby, and Rich had another DVD insert to be signed. While we were waiting, it occurred to me that I had an old
Vision On
annual I could have brought, as Sylverter was in that. I mentioned it to him, and he said he'd love to see one. We had a nice chat and we got a demonstration of his dancing eyebrows.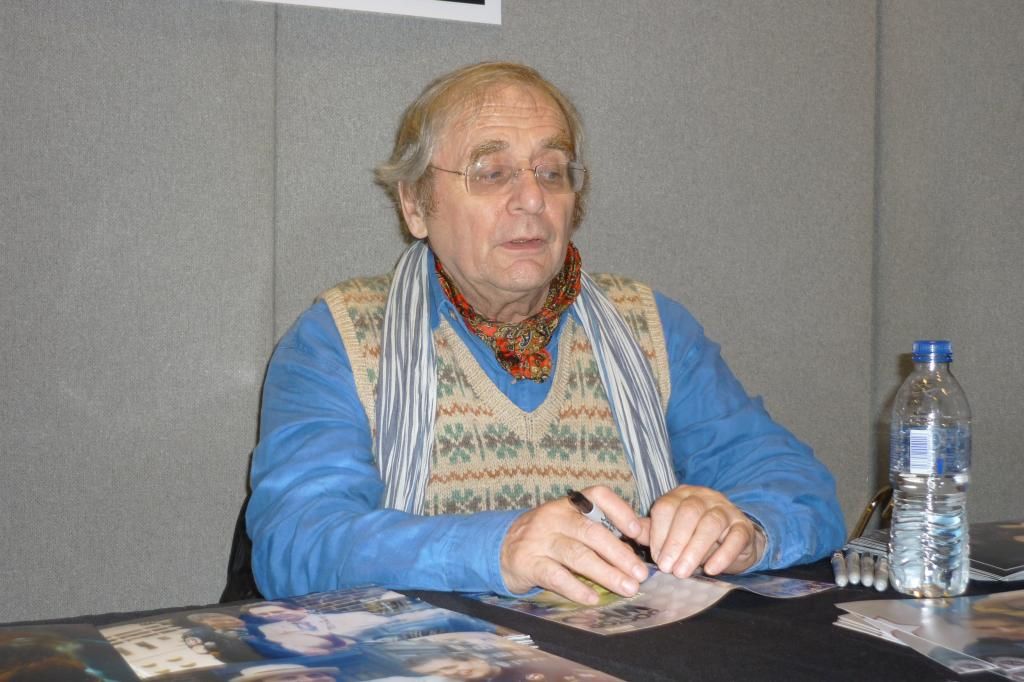 We completed our Dr Who set with Fraser Hines. He wasn't busy at the time, so we could talk - well, it was mostly Rich and Fraser talking. There was discussion of DVD covers, and the reasons for actors not being well featured on them (cost of royalties for using their image). Plus he talked about working with Patrick Troughton and his regrets at leaving the show when he did.
We then came forward in time, as I wanted to see Virginia Hey, who played Zhaan, the gorgeous blue alien in Farscape. Like all the actors we met, Virginia was lovely - their enthusiasm for meeting fans and their patience was wonderful. She spoke about having to spend three hours in makeup before filming even started each day, and delighted in pointing out one well-used publicity photo which had been taken after she'd been for lunch that day. Her makeup hadn't been repaired between eating and the photoshoot, so her natural skin colour shows slightly in some places, giving Zhann pinkish lips. Not only has the image been used officially a lot, but she's seen fan art based on the picture, showing Zhaan with the pinkish lips. In fact it's the image on my DVD cover, which she signed, and drew little hearts on.
We also managed to see Anthony Head. He was engaging in a spot of poster sabotage, started by Eve Myles, who was at the next table. She first drew something on the poster of Burn Gorman, who was on her other side (but away from his table), but wrote on Anthony Head's poster, "Should Have Gone To Specsavers". He he returned and saw it, Anthony retaliated by drawing a pair of glasses on her picture, and then adding "I did !!!"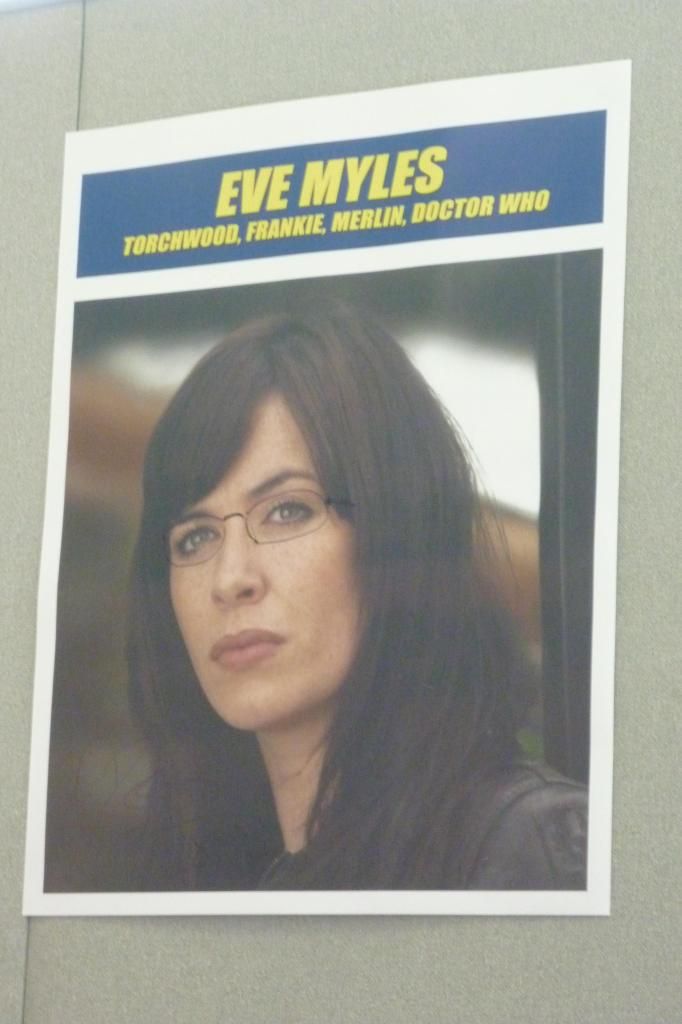 We saw him happily signing a jar of Gold Blend coffee that someone had brought, Rich had his Sunnydale High School yearbook signed. I mention that my Mum had seen in playing Frank-N-Furter in The Rocky Horror Picture Show and he said how much he'd enjoyed doing it.
The other guest on my list was Ian Liston. He played Wes Janson, Wedge's gunner at the Battle of Hoth, in 'The Empire Strikes Back'. Wes is the guy that fires the harpoon that trips the AT-AT up. It's a very minor part in the film, but Janson is developed into a full character in the books, notably the X-Wing series. Ian Liston has read the books and very much enjoys the portrayal of Wes and appreciates him rather as the fans do, so I was looking forward to meeting him. I first got him to sign the chubby soft toy X-wing that Denis Lawson signed last year. I then produced the snowspeeder, that I built from a kit some 15+ years ago. It's the vehicle that he's associated with in the films, and I painted the pilots' helmets to match the characters. Ian was very impressed by it, and asked if he could take a photo of it. So upper part has lots of small areas in different planes, so I suggested it would easier to sign the underside, which he did. He was determined to put his signature somewhere visible though, and insisted that he could do, with a fine pen he had. I was quite happy to let him try, and he managed a very neat autograph under the cockpit.
After this, while Rich helpfully packed away the snowspeeder, I gave Ian a copy of
Silver Express
. This is the western I wrote where the four main characters are avatars of the Fab Four X-wing pilots, Wedge, Tycho, Wes and Hobbie. As part of the transformation process, the western characters are given the surnames of the actor who played them in the films, so the Wes avatar is called Sam Liston. I explained this to Ian Liston, pointing out Sam's appearance on the first page, and gave him the book I'd signed for him. Ian was amazed at discovering that Wes Janson had inspired this other character, and his own name had been specifically used for the character and delighted by it. He grabbed one of the glossy publicity photos on the table and basically told the staff member who was taking the money that he was going to sign it and give me a free autograph as a 'thank you' (He did ask if he could, but didn't look like he'd be happy with a refusal - and I'd paid for two already). He put 'To Gillian - Thank you! - Best Wishes - Ian Liston - Wes (or Sam Liston !). We had a nice chat and it was a lovely encounter.
After the autograph hunting (several were cuaght, but none were hurt), we caught most of a Dr Who talk, wandered around the stalls, met up with a couple of people, ate overpriced hot dogs and generally had a good day out. I was tired when I got home, but it was worth every penny.
Saturday I had a lovely time at the Sheffield Film and Comic Con. I arranged to meet