It came with him when he moved in here, and stayed when he moved out. And has stayed ever since. I was looking at it the other day and actually taking notice of it. Should I get rid of it and put something more aesthetically pleasing in its space, or keep it to remember the days when students' homes frequently had some piece of 'liberated' street furniture about the place ?
Traffic cones were the most common item taken - easily found and readily portable. My first serious boyfriend at University, Neil B. shared a flat down on Eccleshall Road with three other blokes. It was over a shop, and like most student accomodation of the time, furnished with a random, creaky assortment of stuff, a lot of which had a musty 40's feel to it. Neil and his flatmates improvised themselves a coffee table from 4 traffic cones and a wooden 'To Let' sign.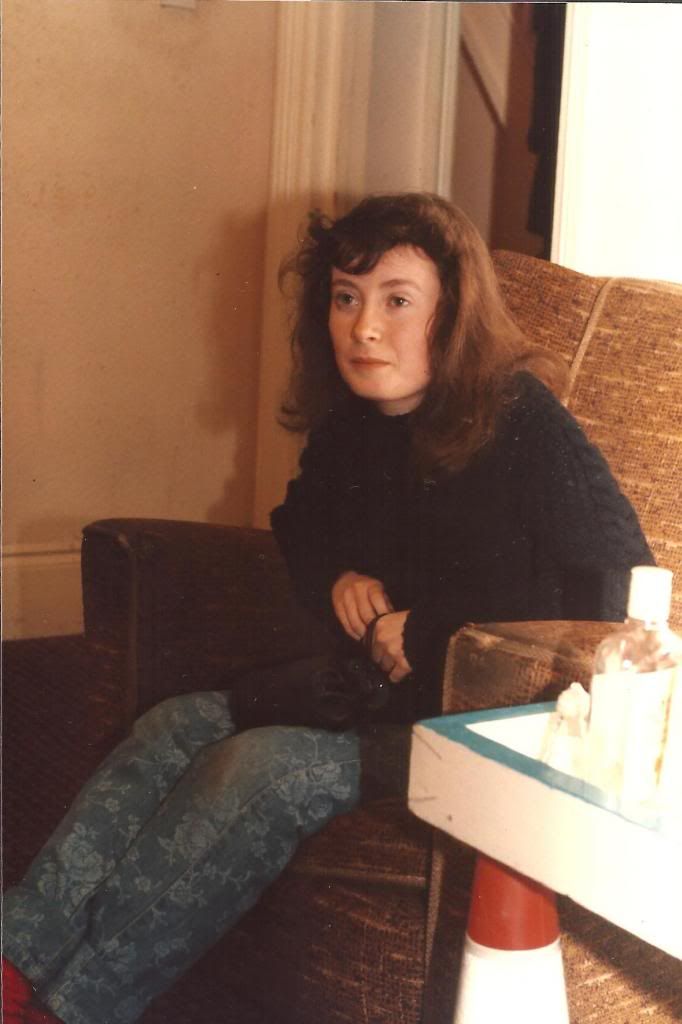 This was Easter 1986, That autumn, I was on my way back from the pub with Chris, who lived on the ground floor of the house where I now live. As we were walking down Harcourt Crescent, we met Bill Hoad, who then lived in the attic flat where I live now. Bill, who had graduated a year or two earlier, though very much still involved with (NO)D&DSoc and student life, was carrying a small traffic cone. He explained, somewhat sheepishly, that he'd never nicked a traffic cone as a student, and had decided to make up for missing this student rite of passage. He moved out at the end of the academic year but the cone stayed while Rich and Stella lived in the attic for a year and was still in place when I moved in, August 1988. After a couple of years, I sawed the top few inches off the cone to make a wider opening so I could use it as an umbrella stand.
In the mid-90's I did some redecorating in the hall, bought a coat stand, and got a nice brass umbrella stand from Past Times to bring out the late Victorian nature of the space. It meant getting rid of the old, faithful traffic cone. It had lived indoors for 10 years and I felt oddly guilty about turning it out into the wild to fend for itself. I found a small flock of traffic cones further along the road, and set it free there, and in a short time, it moved on with the rest.
I saw a couple of students late one night last year, carrying a traffic cone. Warmed the cockles of my heart, it did.
I was in Leek at the weekend, with Helen, and we were exploring the collector's market there. One stall was offering an elderly, battered and somewhat rusty, yellow road lamp. The sort of squarish lamp with circular orange reflectors and a hook atop that you sometimes see hanging from skips. I pointed out to Helen that I have one in much better condition in my living room; it's been there for the last 20+ years, in fact. It was my ex, Iain F, who 'acquired' one night as a student, before we got together. He used to take it to showings of the 'Rocky Horror Picture Show' and at the 'shine a light' cue, instead of a cigarette lighter, Iain would hold up this big lamp instead.