Everything went to schedule and I got to the stadium in MK around 10:30am to attend Collectormania19. It's one of those events with lots of guests from cult film and TV, and sports stars, all signing autographs for money. I was there to see Denis Lawson, who has been notoriously reluctant to get involved in Star Wars fandom. He did his first event in London a couple of years ago, presumably having decided that he can face the odd day of signing for people who barely know who he is, so long as he gets paid well enough. There are a lot of people who are willing to pay for the autograph of pretty much anyone who ever appeared in their favourite franchise. From Denis' point of view, Wedge was a glorified bit part, with about a dozen lines in each picture and nothing much for him to actually do as an actor. It must be annoying to be best known to many for such a minor role, when you've been a star in TV, film and theatre.
I went to his stand and picked up a virtual queue ticket, number 224. It's a good system: rather than waiting for a couple of hours in one unweildy line, to see one guest, you can pick up virtual queue tickets for a guest, then virtual tickets for other guests if you want. Then when your batch of numbers is called for one guest, you join a shorter, real queue. In the meantime, you're free to wander around, and visit other guests. When I got my ticket, Denis was signing 1-100, so I figured I had at least an hour before I actually had to join the queue.
I went for a spin around the concourse of the stadium. There were plenty of people in costumes to admire. Some were parts of groups, like the 501st Stormtrooper legion and the Mandalorian troops. The UK R2-D2 builders were present, with their full-sized, remote controlled astromech units.
After a look round, I came back to Denis's stall and parked myself against the wall to wait for my number, and enjoyed watching all the cosplayers passing. When it was finally my turn to meet Denis, he was charming. He shook my hand and paid attention, rather than just whisking off a quick signature.
I gave him a copy of 'Silver Express', the western I wrote featuring a sheriff Lawson. I explained that the character was named after Denis and was based on Wedge, adding that I knew Wedge isn't much of a character in the films, but is much more developed in the books. Denis made an agreeing noise to the remark about Wedge in the films. Once he fully realized that I'd written the book, named the character after him and was giving him a copy that I'd signed, he was lpeased, and promised to read it. I hope he does read it at least once.
I decided to take along 1 Star Wars item, because he was Wedge, even if it wasn't his greatest role, and something non SW. The SW item I chose was the rather chubby soft toy X-wing I got from ThinkGeel last year. He was very obliging and picked a pen that would leave a clear mark on the fabric.
I then asked him to sign a program for 'La Cage Aux Folles', saying how much I'd enjoyed the show. I added that I'd also seen 'Lust', which rather surprised him as it was 20 years ago and I don't think he was expecting to meet anyone who'd followed his career for that long. The last item was a 2012 calendar of Denis Lawson pictures that I'd had made up on Vistaprint. As I suspected, he couldn't resist flipping through it to see what pictures of him I'd used. He laughed at the pic from 'Local Hero', of him half-naked in bed. I said he could sign that one if he liked, but he signed the cover instead. There was a pic of him in 'Robin Hood', stroking his goatee in a villainous manner, and he deliberately copied the pose as he looked at the picture. He must have liked meeting someone who knew the difference between Denis Lawson and Wedge Antilles, because he added a couple of kisses when he signed the calendar. He took my hand again when I said goodbye. He was busy, so I didn't want to linger as much as I'd have liked to spend more time - I still had the photoshoot to look forward to. I didn't feel like I was rushed through: I got his full attention for as much time as he could reasonably spare for one fan, with plenty of other paying customers waiting.
There was about an hour to the professional photoshoot, so I spent time visiting more of the dealers' stalls. I treated myself to a pair of cute Tardis earrings, and a keyring with a mini Tardis and the second Doctor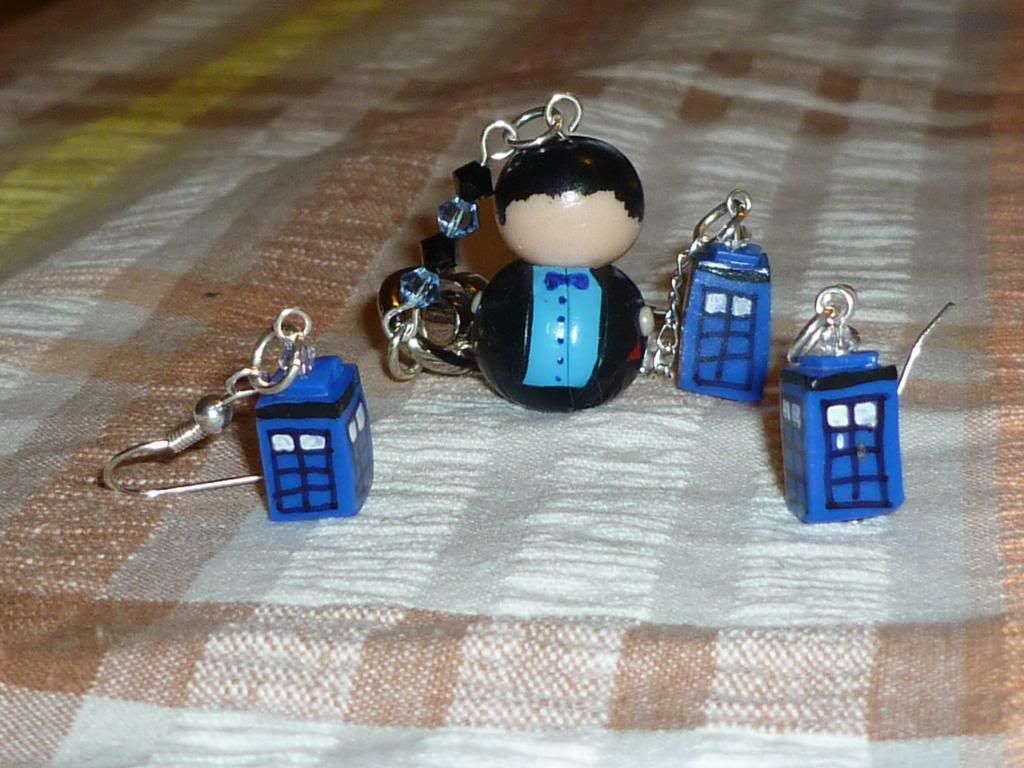 They are made by
http://www.etsy.com/uk/shop/NthDesign?section_id=11605062
. I moved to a quieter spot for a few minutes, and while I was there, Billie Piper walked right past me on her way to her photoshoot. It took me a moment to be sure it actually was her. She's very pretty without needing full TV makeup.
I popped into the loo to check makeup, teeth and hair before going to the photoshoot with Denis. It was set up so you left bags (or wheelchair) as you entered, joined the guest at the top of the room, had a photo taken, walked down the side of the room to collect your printed, glossy photo, and your belongings would be brought down for you to collect, and leave at the bottom of the room. Denis was warm, and quite easy about hugging fans for the photo. It was lovely to get snuggled against him. My photo was being printed as I got to the end of the tables, and I had my eyes closed, so I was sent round again for another shot. The blessings of digital photography ! Denis didn't mind doing another photo. I lost my balance slightly as I approached him, and he caught me, then stood holding my right hand in his, with his left arm over my shoulder, so we were even cosier. He's only a few inches taller than I am, so we fitted together very nicely :) The photographer took another shot and checked his screen before sending it to be printed. I had my eyes closed again, so we had to do another one. Which meant just a little bit longer snuggled against Denis. I remembered to ask if it is his tapdancing heard on the recording of the muscial 'Pal Joey' (it is - and very impresive too). The photographer took two pics to be on the safe side, and both were printed and given to me, though I'd only paid for one. The experience was more important to me than the actual picture, but I think this is the better one
After the photoshoot, there wasn't really anything I wanted to do - or could afford, anyway. I had an hour and a half before the coach home, so I went to the IKEA next door and had a meal there. I stocked up on the marzipan coated cakes they sell, and got a couple more glasses to go with the ones I got in Feb, so I have a set of six. With my loot all stowed away, it was back to the coach station, and home.
It wasn't a cheap day out, but it was a pleasant one. I wasn't expecting to spend much time with Denis, or to be able to chat as I'd really like to, but I did get to meet him at last and to say I've enjoyed his work over the years and he seemed genuinely appreciative.
Up even earlier this morning, for the taxi to the coach station, for the coach to Milton Keynes. At least it was a lovely sunny day again. I had a good view out of the front of the coach too, as I'd phoned to let National Express know I was bringing a wheelchair, and they asked if I'd like a seat reserved at the front, so I didn't have to walk to the back of the coach.