I took my folding wheelchair for its first outing, so I could sit and move later on, when I got tired. Before then, it was useful for carrying some bags and things. I pushed it empty, and it was like having a supermarket trolley to hang on to, in that it made walking less tiring. We found the main street, which seemed to be doing quite well - fewer pound shops and charity shops that in other towns we've visited. Stafford is a rather nice little town, with some lovely old buildings. Our first port of call was somewhere for an early lunch, and we chose The Soup Kitchen. Parts of the building dated from the 16th century. It was busy with waiters and waitresses nipping about, setting and clearing tables, taking orders and delivering food. The food was frashly made on the premises and good value, we thought. I had the ham and cheese rosti, which was tasty. I'd expected the ham to be packet ham, but it was more substantial chunks cut from a joint. Altogether, we were very satisfied, and the staff were most helpful at finding a spot to park the wheelchair.
After lunch, we visited the Ancient High House
http://www.staffordbc.gov.uk/the-ancient-high-house
which is said to be the largest timber framed town house surviving in England. Most of it houses a free museum about the High House, with rooms reproducing the Tudor, Stuart, Georgian, Victorian and Edwardian styles. There were samples of original 17th ceuntry wallpapers that were found under layers of other wallpapers during renovations, and one room papered in a reproducion of one of the period wallpapers. I really liked the Castle room, which explained how the house had been constructed, and had a wonderful model of the house being built.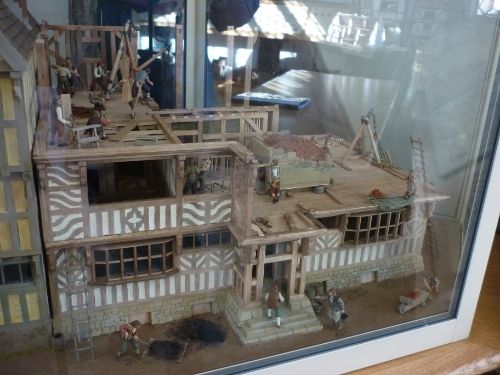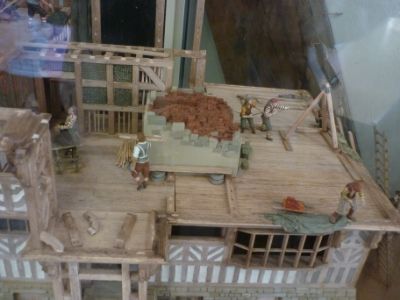 After the Ancient High House, I was tired enough to actually ride in the wheelchair. We stopped for a hot drink and a bun, and drove back to the cat show. I used the wheelchair again, to get around the show. It was more comfortable than previous returns to shows, where walking has been painful and I've been longing for a place to sit down. I bought a play tunnel for the cats, as the old one has started to break, and got a square crocheted lap rug from a charity stall. The knitted lap rug in the living room is starting to look shabby, so that will go in the wheelchair and the new one will replace it in the living room.
It was a good day out, seeing a place I'd never been before in the undemanding company of a good friend. We gave my wheels a good trial run and made a few observations for the future. The footrests can fold back, when I'm not in it, which means it needs slightly less manouvering room. They don't lock in place, and tend to flap though, so I've found some short straps cut off an old rucksack, which are perfect for holding the footrests in place. It's a self-propelled model, so I can move myself, but Helen pushed it mostly anyway. She said the grips were hard and got uncomfortable quite quickly, so I've taken her suggestion and ordered some bike handlebar tape to wrap around for some padding. I've also ordered a reasonable bike lock, so occasions when I need to leave it parked out of sight. Hopefully, this will fit on the pocket on the back of the seat. I'm also planning to get a bag to hang on the back, to give an extra place to carry stuff. With any luck, we'll be able to take the L-plates off soon :)
Sat was the Stoke on Trent cat show - the first one I'd been to this year, as the Notts and Derby was cancelled due to the snow. This year, Helen and I decided to drive on to Stafford, after having a look around the show, and leaving Steve to his judging. It was a nice day, though the low sun meant we had to shade our eyes if we were looking toward it, which made it hard to see our surroundings sometimes.