Helen picked me up at half ten and the streets were already packed by the time we got there. The disabled car park was full, but the nice attendent told us we could park for three hours on the single yellow line on the road just outside the car park, as I have a blue badge. We thought this would do nicely to start with, and we'd worry about moving the car and finding another place later.
We started with the stalls in what seemed to be the ground floor car park of one of the neighbouring blocks of flats. The big trend this year seemed to be for bouquets and displays made of sweets. We found a retro sweet stall that sold the cordials that Lakeland had in a year or so back. Lakeland have stopped stocking them, so we were pleased to see them. They do a nice dandelion and burdock, plus I like the blood tonic and want to try the blackcurrent and liquorice. We didn't buy any then, as we didn't want to be lugging bottles around, but they are based in Chapeltown, so we took cards with the shop's address, to visit another day.
We went on to the fairground area and I indulged myself with a ride on the lovely old roundabout. The hilariously seedy 'believe it or not' was back but we saw it last year and once is enough. Heading indoors, we stopped to look at the
Harmonograph
, which was fascinating. Shortly after this, we went to join the Chivers and Rich at the Kelham Island Tavern for lunch. The food was tasty and good value - I had a decent burger and half a pint of Westons Old Rosie with change from a fiver. What's more, although I ordered a plain burger, the chef made a cheeseburger instead - so free cheese ! Taking a break for an early pub lunch was a good idea. The museum cafes are packed when there's an event on, and the food is good, but not that inspired. It was nice to have a proper sit down and a break. The Chivers and Rich had ordered first and been served first, so they went off to the museum to start their visit, while Helen and I finished up a leisurely lunch.
Afterwards, it was time to move the car. There were a couple of spaces in the disabled car park now, so we didn't have to go far. Refreshed by the break, we went on to the courtyard. First stall was Whirlow Farm, where Helen bought all the pies - well, the four that were out on display. We sampled lemon cake at another stall and bought a mince pie each, then stopped to chat to Liz. Bryony went into sales mode, extolling the virtues of items on the stall. After this, we went indoors and shopped.
We found the college jewellery stall and admired work by Ju and others. Elsewhere, I bought a little owl-shaped pin cushion, a beaded, star-shaped tree ornament and a lovely, sparkly hanging star to put a tea-light in. Rather than pack it away for four or five days, and then get it out again, I just hung it up when I got home.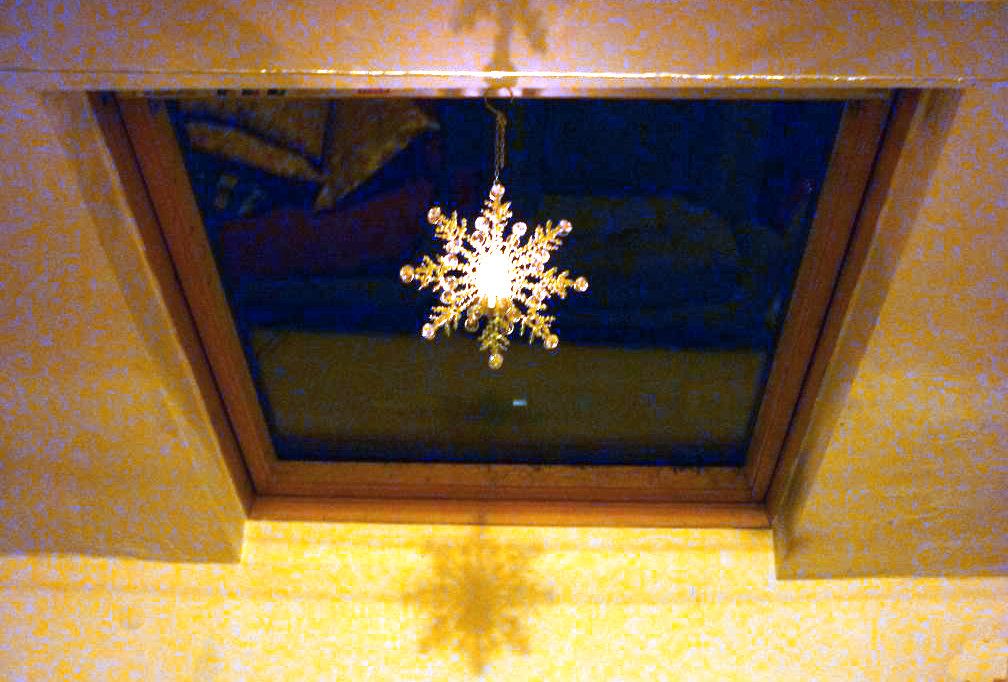 It only cost £5 - a bargain, I say.
I also got this, from the stall selling things made in Belarus, to raise money for the Children of Chernovyl charity.
It's made of wood, and is in two halves, so you can use it as a box. I got a lovely wooden Xmas tree from them last year, which opens to reveal a smaller one inside, which opens to reveal...etc, down to a tiny tree about an inch tall.
By about 4pm, I was drooping and we'd covered virtually everything, so we went home. I lay down and napped when I got in, but recovered in good time for my fix of sparkles that is 'Strictly Come Dancing'.
Yesterday I went to Kelham Island Xmas market. After rain and strong winds last year, and cancellation due to snow the year before, it was a nice change to have bright sunshine. There was even a bit of warmth in the sun, if you were out of the wind.