soul_rider
was kind enough to come along and offer moral support, and both the doctor and nurse are really nice. I had one co-codemol an hour later and two paracetamol about six hours after than, and it's been not too bad at all. Just a slight throbbing. It's a little sore right now, but it's voer 4 hours since the last paracetamol, so I might take something soon.
I have to go back and see the nurse late tomorrow afternoon, to have the first dressing changed. And while I'm there, need to remember to make an appointment for the annual flu jab.
My freeview box has been playing up since yesterday. It kept telling me it couldn't get a signal last night for virtually all channels. It did, however, record programmes on channels it said it couldn't find. I've unplugged it, and retuned it a few times since last night. It currently receives all channels OK, but I'm only getting a few of them on the guide. I can watch Channel 4, but the box won't tell me what I'm watching. Most maddening.
I've been looking into getting my favourite brown armchair reupholstered. It's a very comfy fireside chair, with a high back, that was acquired from a friend's parents, about 20 years ago. I called at Cundy's on Barber Road last week and showed them a photo to get a rough quote, so I'd have some idea of whether I had the budget for it. They quoted £150, which is quite a chunk of money to spend. However, buying a similar one new would cost £400+. If I have it reupholstered, it should be good for another 20+ years. I've had a couple of other companies come out to see it and give a firm quote: one said £270 and the other said £240. I hadn't heard back from Cundy's, so called today. It turned out he'd written my phone number down wrong, and had been trying to call to make a proper appointment. He should be calling tomorrow afternoon, and I sincerely hope that his actual quote is close to the one based on the photo, as otherwise I'll have to wait a while longer till I get the rest of the money.
I rearranged the living room last week, partly to move this chair somewhere where the sun wouldn't shine right in my face in the afternoons, and also to create a space for this lamp (seen here in my bedroom)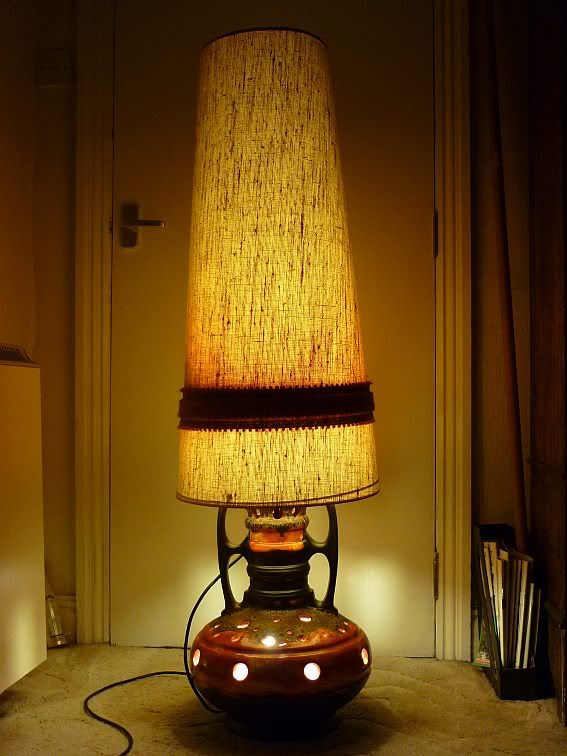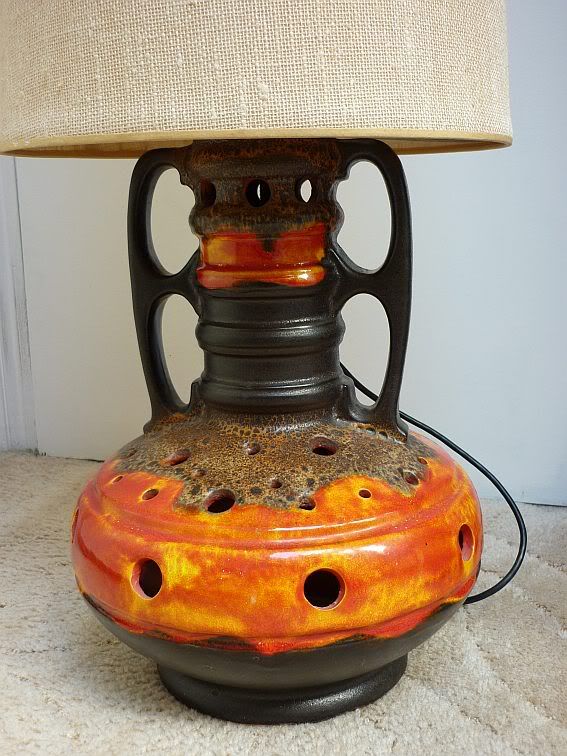 My parents bought this in the early 70's. The glaze is a style that was used in Germany from the 50's through to the late 70's, and is known as Hot lava. I've always liked this lamp. There isn't really room for it in the living room of the new house, so it was stuck in the corner of the conservatory, not used. I asked for it before they decided to give it away or one of my brothers could get their hands on it. I was so glad I'd driven down, and not had to take the train !
Well, it's been a long day, today. It started with a trip to the doctor's this morning at 9:40 to have a toenail removed. I've had infections from the nail ingrowing, so the doctor suggested removal to let a new one grow. I'll not say anything about it other than that the injections of local anaesthetic into the underside of the toe hurt rather, and the procedure itself was much quicker than I'd expected.