I went to Leeds at the end of Jan to see Jasper Fforde talking about his new book. I was supposed to be going with Ven, who also wanted to visit the library to research a Victorian poisoning case for her talks at the General Cemetary where she volunteers. However, she was feeling poorly and stayed at home instead.
Leeds Central library is really quite a fab building. I loved the tiled room, which is now a cafe. The whole thing is very grand Victorian Municipal, rather like a posh old town hall.The talk was upstairs in a smaller, plain room. Jasper spoke about how he sets himself challenges and then tries to write them. He talked about his new book, Shades of Grey, and the challenge in writing something different to his previous books. He was delighted when a bloke in the audience told him that he'd been namechecked in a Fantastic Four story - the characters do some literary travelling and their book-hopping vessel is named Jasper in his honour.
There was wine or juice afterwards to sip while we queued to get things signed. I had my book signed in Sheffield the week before, but I asked if he'd sign a couple of his postcards for two friends of mine, including Ven. And he remembered my name - after a whole week of meeting other people !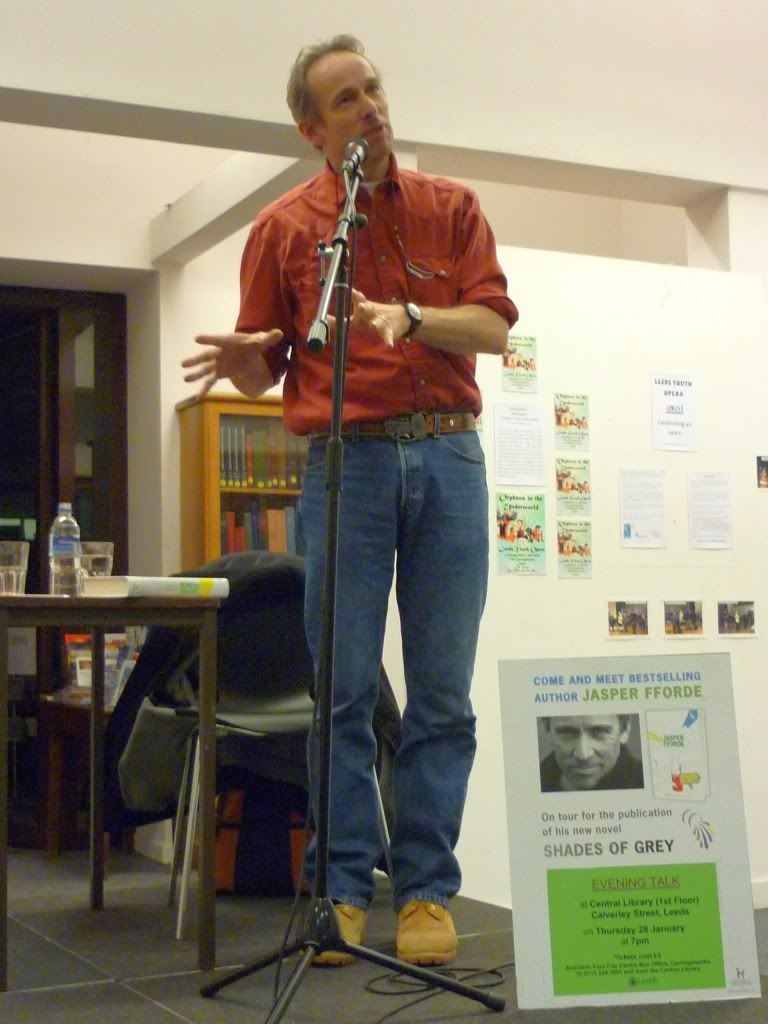 The Hand of Jasper
It was a nice evening out, and always good to listen to Jasper talking.
Just remembered something else wot I have done lately.