She's been causing me worry again, this last week. Last Tues I found a small raw patch on the back of her neck. I washed it with warm salt water until I could get her to the vet on Thurs. He diagnosed eczema and gave her a steroid injection. I'd made her a cardboard collar to stop her scratching it. The vet gave me a plastic one, but I kept on using the cornflake packet one, as I'd cut it to be narrower at the front, under her chin. That made it easier for her to eat, and she could groom herself somewhat. It was only there to stop her scratching the back of her neck, not to stop her pulling stitches out.
She put up with it with very good grace, bless her. I think that because she's had a proper collar on before, and found she couldn't get it off, she believed that she couldn't get the cardboard and masking tape affair off either. I had to repair it a couple of times and she just sat down and let me get on with it. She can be such a sweetie.
The collar stayed on for a week and came off last night. I trimmed the ends of the claws on the foot she uses to scratch that spot. The raw spot had healed over but she had a scratch overnight that was enough to leave a small red spot. I've checked it through the day and it's not changed, so the collar stays off while I monitor it.
Of course, the most maddening thing about it happening now is that she's entered for a cat show the first weekend of December. It's possible that as she'd been eating more of Diesel's grown-up cat food recently, that may have caused the allergic reaction. So she's not being allowed any of that until after the show, when I'll introduce it again, and see if she reacts. Still, it's not looking too bad at the moment, and I just to to hope it stays that way.
Here she is looking very elegant, on the back on an armchair: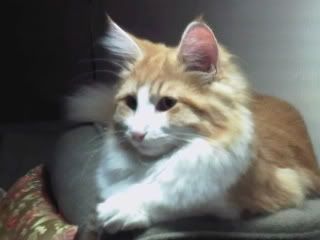 Most of my cats have been happy to walk across and through the sink, but she's the only one who lies down in it:
I think that's her in there - could be a fox, for all you can tell from the picture:
I love her tail :)
Well, my lovely furry starlet is still growing and thriving. She's just under eight months old now, and weights a solid eight pounds. And none of that is fat, either. There's a lot of bone and muscle under the fluff.