Vikki, who is no more of a morning person than I am, gallantly agreed to get up at 7.00am to have us at the vets for 8.30. Vikki has already driven us to and from the vets about five times already for Iella's op and the checkups, for which I am very grateful. However, she phoned at 7.20am Wed morning to say she was on the verge of coming down with a cold. If she got up and went out then, she would certainly succumb. And I know that Vikki gets nasty colds that linger. So she apologetically said she couldn't take us to the vet and kindly offered to pay the taxi fare. She said if she could sleep through the morning, she'd be well enough to pick Iella up again in the afternoon. I told her not to worry about the taxi fare, and phoned Mercury taxis.
Well, the taxi took us to Attercliffe in good time and I checked Iella in, then caught a bus into town. It stopped right by the market, so I popped in for a lamb burger and then next door to Wilkinsons and got a nice casserole dish. Then the 52, from the same stop, to home, where I lay down and napped for an hour or so.
The PDSA phoned around 1.00 to say Iella was fine, so Vikki and I set off to Attercliffe again around half two. We stopped first at a clock repair and jewellery shop, where I'd intended to take my splendid 70's sunburst clock a few months ago. The battery mechanism needs replacing, and the shop owner offered to do it in 15 mins so I could pick it up again after we'd got Iella. I was more interested in getting her straight home, so we'll pick the clock up next Tues when she has her checkup.
My poor girl was lying in the bottom of her cat box with her chin on the floor, looking very sorry for herself. She had had a hernia, which was stitched up. She now has a bigger scar, stiched not with fine cotton this time, but big stitches in fishing line. She has a five day course of tablets and has to wear a lampshade collar for ten days or so. She's got resigned to it though. This is her on Thurs: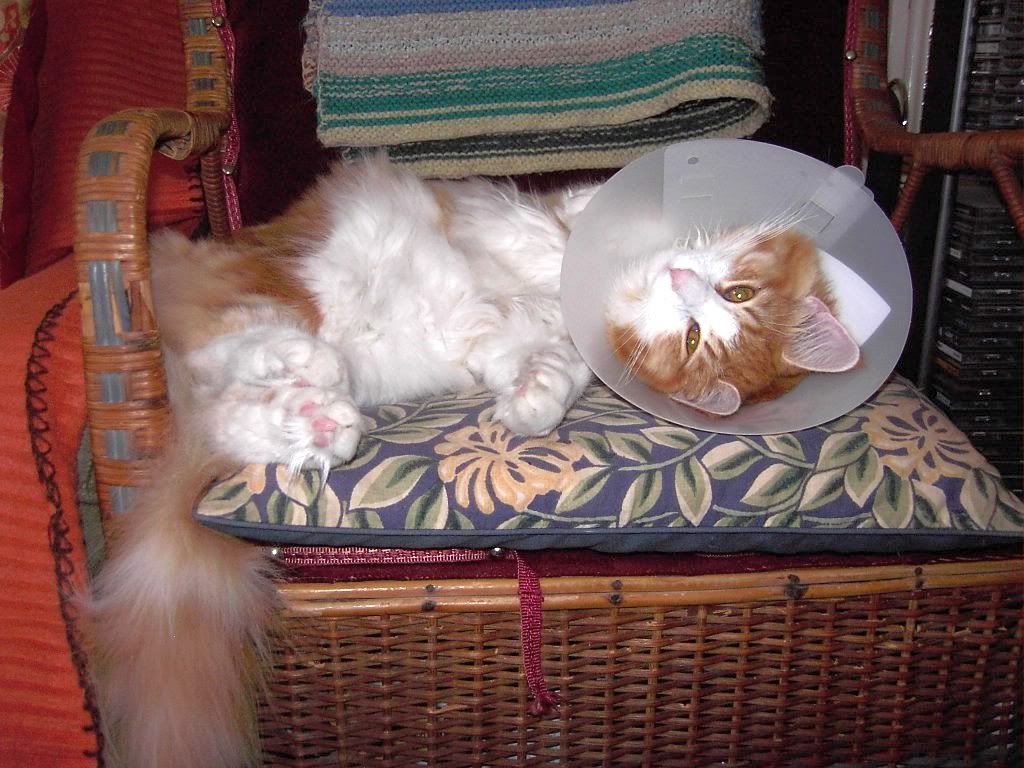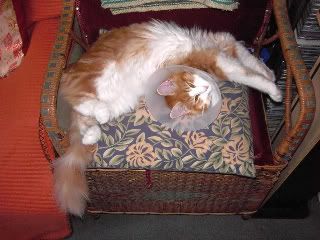 Once I'd got her home and settled her, I had to start making tea for Jenny and Ian who were coming over to see her. The harvest hotpot and the Suzzex Pond Pudding went down well and it was lovely to see you both. Remember - the First Friday Social at the Walkley Cottage. I had planned to set up my Scalextric track, so we could play with the added Kitten Kong hazard. However, I didn't want iella chasing around so soon after her op.
She's bright and well now, taking her pills nicely with some tuna fish. Let's hope it all goes smoothly this time.
Iella went back for her second post-op checkup on Tues. The vet had been a little anxious about feeling something - probably fat, under the skin of the wound. Well, when she went back Tues (in shiny new cat box) there were no change. The vet suspected that either some abdominal fat had got through the incision in the muscle during her neutering op, or else the muscle hadn't healed properly and some fat had come through - a hernia, basically. The wound in the skin was just and Iella was full of beans and charging around, which was why I'd not been worried, The vet asked if Iella could come in the next day for an exploratory op, and restitching if necessary.