So I needed a larger, but not extorionately expensive carrier - preferably one with a comfortable handle for carrying it. For years, it seemed at all carriers had narrow handles that were square in cross section - very uncomforable for carrying weight. Some now have fatter and rounder handles, which are more comfortable to grip.
The carrier I eventually chose is this: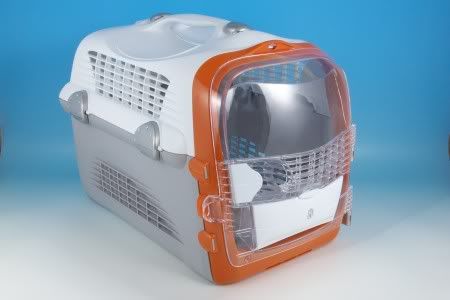 It looks space-age !
The door at the front can be easily opened with one hand and the top part unclips to lift off. The handle looks good, and it comes with a shoulder strap. The white panel at the front is a food and water container that can be taken out without needing to open the door, so risk of escape if you want to feed them in transit. I can't wait for it to arrive - though I doubt that the cats will share my enthusiasm :)
I've been thinking for a while that I needed to replace my plastic cat carrier. The bottom latch on the door was broken when I was given it and attempts to mend that have only been partially successful. It's also not that large. When I brought Iella home in it from her breeder, she lay neatly at the back, almost rattling around in it. Now she looks decidedly cosy in there, and she's still growing. Diesel is much the same. It's OK for short journeys around Sheffield but really, the cats deserve better. I do have an old-fashioned wicker carrier, which is much larger but otherwise rather basic.